In Memory
Rick Hand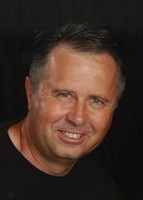 Welcome, MN
Funeral services for Richard "Rick" E. Hand, 55, of Welcome, MN, will be 10:30 a.m. Saturday, October 19, 2013, at the St. John's Lutheran Church in Sherburn, MN. Burial will be following the service in the Sherburn City Cemetery in Sherburn, MN. Visitation will be 4:00 p.m. to 7:00 p.m. Friday, October 18, 2013, at the Lakeview Funeral Home in Fairmont and will continue one hour prior to the time of service Saturday at the church. Rick passed away Tuesday, October 15, 2013, near Fairmont, MN. The Lakeview Funeral Home and Cremation Service of Fairmont is assisting the family with arrangements.
Richard Ernest Hand was born on October 4, 1958, in Fairmont, MN, the son of Ernest and Fern (Johnson) Hand Jr. He was baptized and confirmed at the East Chain Lutheran Church in East Chain and was currently a member of the St. John's Lutheran Church in Sherburn. As a young boy, Rick was always into something and was quick witted even at a young age. There were games of kickball, makeshift plays, jumping out of haylofts, exploring old barns, biking and swimming in the summer months and in the winter it was cards, puzzles, sledding and ice skating to keep him busy. Rick was a member of the Silver Lake 4-H Club for 9 years and went to state with his projects dealing with conservation. He learned to be an expert marksman with a bow and arrow and deer hunting was always a season he looked forward to with his dad each fall.
Rick attended school in Fairmont and graduated from Fairmont High School. He would then go on to attend Jackson Vocational College and get his degree in Carpentry. Rick worked for several carpenter firms in Fairmont over the years as well as taking on projects of his own. He was a skilled taxidermist as well. Rick was a poet, an artist, and a hardworking man of many skills. He learned the art of mending nets and seining the lakes from his father and when it was time for his dad to retire; Rick formed a partnership with his brother Jim and continued the family commercial fishing business that was started by his grandfather Ernest Hand Sr. in 1917.
On September 19, 1992, Rick was united in marriage to Tammy Morris and they made their home in Welcome, MN. Together they built a life of love, respect and caring. They were best friends and loved to travel and enjoyed many trips together all across the United States.
Rick loved the outdoors as well as hunting and fishing with his father and had a special place in his heart for his dogs, Max and Duke. At Christmas time, Rick cherished the opportunity to play the role of Santa for family functions as well as for friends. His twinkling blue eyes and contagious smile made him that much more believable to the kids. Rick treasured spending time with his family and looked forward to family picnics.
Rick was a kind and compassionate person and was genuinely concerned for others and the things that were impacting their life. He was a shoulder to cry on when you needed one and was there to pick you up when you were down. Rick will be greatly missed by those that loved him and called him friend. Rick was a good man in a world that needs good men.
Left to cherish his memory is his wife, Tammy of Welcome, MN; parents, Ernest and Fern Hand of Fairmont, MN; sisters, Shelly (Bruce) Abitz and Deb Domek; brother, James (Donna) Hand; father-in-law and mother-in-law, Ken and Mavis Morris; sister-in-law, Jill (Jason) Antony; brother-in-law, Ronald (Lana) Morris; as well as many nieces, nephews, extended family and friends.
Rick was preceded in death by his grandparents, Ernest and Emma Hand Sr. and Anton and Evelyn Johnson.