In Memory
Lori Schultze (Huffman)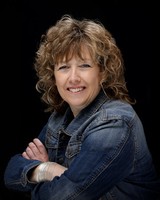 Lori Lynn Huffman
November 11, 1958 - December 21, 2013
A Celebration of Life Service for Lori L. Huffman, 55, of Fairmont, MN, will be 11:00 a.m. Friday, December 27, 2013, at the St. Paul's Lutheran Church in Fairmont. Burial will be held following the luncheon in the Fairview Memorial Park Cemetery in Fairmont. Visitation will be 4:00 p.m. to 8:00 p.m. Thursday, December 26, 2013, at the Lakeview Funeral Home in Fairmont and will continue one hour prior to the time of service Friday at the church. Lori passed away peacefully Saturday morning, December 21, 2013, in East Chain, MN. The Lakeview Funeral Home and Cremation Service of Fairmont is assisting the family with arrangements.
Lori Lynn (Schultze) Huffman was born on November 11, 1958, in Fairmont, MN, the daughter of LeRoy and Phyllis (Jurs) Schultze. As an infant, Lori was baptized and later confirmed in 1973; at the St. Paul's Lutheran Church in Fairmont. She attended school in Fairmont and graduated from Fairmont High School in 1977. Following her graduation, Lori attended Pipestone Area Vocational Technical Institute in Pipestone, MN.
On March 1, 1980, Lori was united in marriage to Bryan Huffman at the St. Paul's Lutheran Church in Fairmont, MN. The couple made their home in Fairmont and were blessed with a daughter, Jordan. The couple was later divorced.
In 1983, Lori began working for Enderson's Clothing and continued working full time until 1997. In 1997, she opened For Old Times' Sake and also did clothing alterations part-time. In 2006, Lori returned to Enderson's and continued working until she was no longer able to.
Lori was extremely active in the downtown of Fairmont and was a long time member of the Downtown Association. A thriving downtown was so important to Lori, she created the poplar Friday's in the Park and Holiday Delights. She also a member of the Fairmont Glows Committee and the IDH Committee and was instrumental in planning the Car Show for Interlaken Heritage Days.
In her spare time, Lori cherished working in her garden and attending flea markets; where she was on the lookout for that special something that she could repurpose. Lori enjoyed sewing and was an eager volunteer. She treasured time spent with her family and especially loved being with her daughter, Jordan. Lori will be greatly missed by those that love her and called her friend.
Left to cherish her memory is her daughter, Jordan Huffman of St. Louis Park, MN; sister, Lisa Dahl and her husband, Scott of East Chain, MN; brother, David Schultze and his wife, Corey and their children, Caleb, Abbi and Zach of Montgomery, MN; special friend, Jim Phelps of Amboy, MN; as well as many close family and friends.
Lori was preceded in death by her grandparents and her parents, LeRoy and Phyllis Schultze.